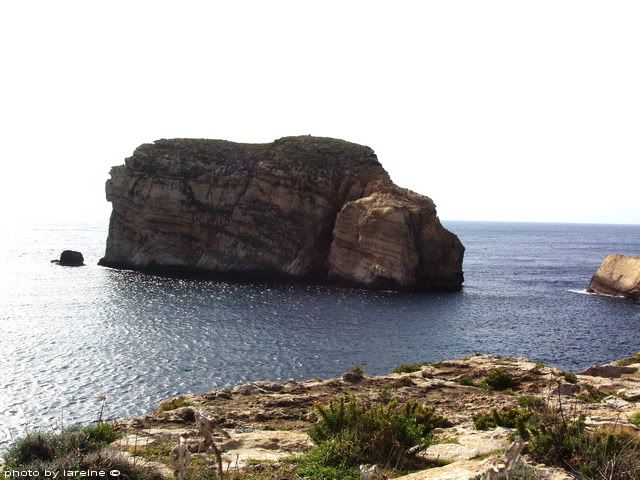 Fungus Rock,
Dwejra
Bay
,
Gozo, Malta
The General's Rock or more known as the Fungus rock stands like a sentinel at the entrance of Dwejra Bay in Gozo.
It was given this name because of the supposedly medicinal (and aphrodisiac) properties of a rare type of fungus growing on the rock islet. It was considered so valuable that it was deemed as a great gift to many sovereigns or sold for a very high price. Its rarity and profitability, prompted the Knights Hospitaller of Malta to forbid its picking by the villagers; and those caught trespassing are sentenced to three years of work in the Knights' galleys. As an additional precaution, a watchtower was erected on the mainland with a cable car --- connecting the mainland to this tiny island and only for the use of the official fungus picker.
But it was later discovered that the fungus,
Fucus coccineus melitensis
, which by the way, is not a fungus but a tuber plant with a shape of a fungus (hence, the mistake) is neither an aphrodisiac nor an 18
th
century version of penicillin.
It does not possess any medicinal properties which rendered the prohibition of its picking rather trivial. But I guess the people's belief in the fungus is "normal" for those times --- small pox, dysentery, consumption and other diseases are widespread, with no modern medicine to cure them. Besides, because of these measures, the island is preserved --- hence, we can still enjoy its beauty up to now. (
sources: Wikipedia and Malte: Le Guide de Routard, Hachette, 2007-2008
)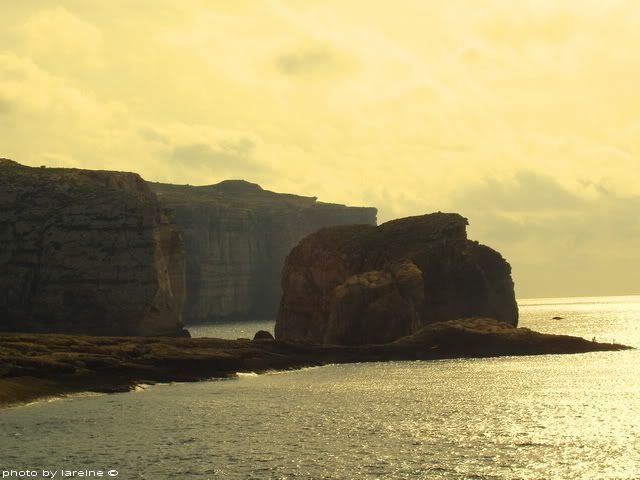 When the almost bare rock face catches the sunlight, the already yellow limestone turns into a gilded rock.
When we visited the place, the sky was ambivalent --- clear one moment and cloudy the next. I think the view (and my photos) would be better with a clear blue sky --- together with the dark blue sea, they would provide a good contrast to the islet.
And when the sun sets and everything is bathed in a golden glow, you witness another kind of beauty.
The "breach" between the rock and the Gozitan coast provides a glimpse of the towering cliffs standing guard over Dwejra bay. The town of St. Lawrence (the bay's location) is really a wonderful place to visit --- aside from the Fungus rock and the semi-circular lagoon, you also have the
azure window
and the inland sea. The sunken grotto in the deep midnight blue sea is a haven for scuba divers and snorkelers. And the weather is good almost all-year round making it a prime destination for vacation even outside tourist season :).