common daisy (bellis perennis) in our backyard
Many consider the common daisy as a weed. I don't really mind them, as long as they don't grow in our flower and vegetable plots *
grins
*.
I appreciate the note of bucolic charm they give to our lawn.
Together with dandelions, they create a tableau of idyllic beauty, making you think of luncheon picnics in the countryside, of lazy afternoons under a shade, of sitting on the giant roots of a tree and letting your mind be free from worries, even for just a second.
These clusters of tiny white daisies (the kind we have gives flowers of around 2 cm in diameter) in our backyard look so charming with dandelions that I find it hard to let my husband mow our lawn. Just imagine a stretch of green grass interspersed with small white and yellow multi-"petaled" (they are actually florets--- small flowers) blossoms on a bright day with the blue sky as the finishing touch.
I'm tempted to put on a summer dress and a straw hat; sit on the grass surrounded by these flowers and read a book with my back against a tree.
I know it sounds too theatrical, but I couldn't help being whimsical when I think about it.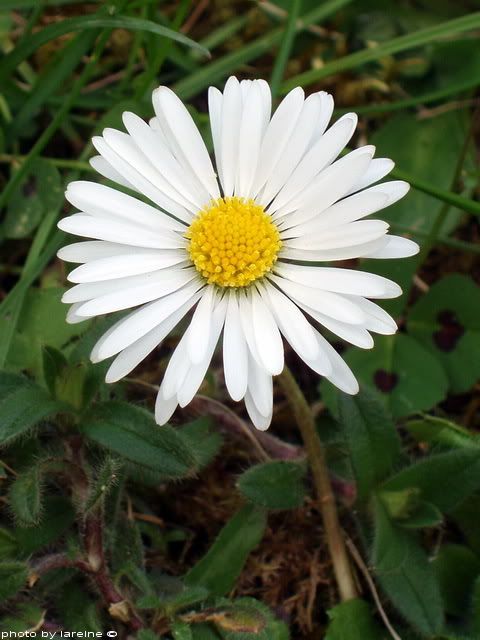 I think it would be a good idea to let them grow since we don't have many flowers in spring. Besides, we got them for free and they grow abundantly every spring. We don't even have to take care of them: they are quite robust and once they've taken roots, they can mange to grown on their own. Even if the flowers close when there's no sun (which is a bit annoying because it would be nice to see them on a dull gray day ---
I find the white flower heads with their yellow disk in the center a tonic against having a low-spirit
. And they add a rural charm in your lawn on a clear, warm day.
Now, I just hope the not-too-cold-yet-sunny weather we have for the past two or three days will continue. It appears that
winter is still making its presence felt
. Come to think of it, it seems that's the trend these past years. With the climatic changes we're having, I won't be surprised if the four seasons we're having right now will just be a thing of the past: we'll have a long season of drought or a long season of rain and flood. In fact, it's actually happening in some parts of the world right now. So I believe we should all do our own part in preventing this to from continuing to happen.
Even a small gesture will do. After all, the seemingly trivial act of around 6. 5 billion people will turn into a significant deed when put together.