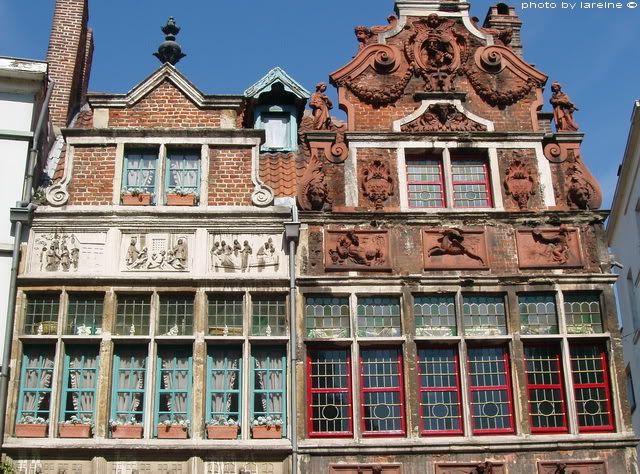 Houses on Quai de la Grue overlooking the river Lys,
Ghent, Belgium
This is my first view of houses in
Ghent
as we start our walk around the city.
You will find this
in Quai de la Grue upon crossing the bridge if you're coming from a town square where a public
market is usually held
(I believe it's called Vridjag Markt. I'm not so sure, but it is close to a parking area). It is really eye-catching, one can even find a photo of the gables in the
Evasion
guide book on
Brugges
.
I love the rich terracotta color of the house on the right
and the cottage like windows on the house on the left with ruffled curtains and flower pots.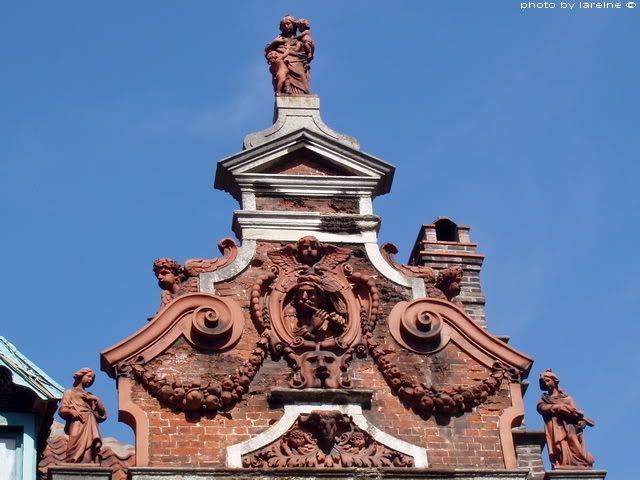 The photo above is the details of the gable of the red house. The decor is beautifully preserved with the two women sculptures, standing like watchful angels over those who cross the threshold. The benevolent Madonna and child on the gable tip welcome passers-by to spend a moment under its roof. To add to the inviting ambiance is a "pied piper" (central part of the gable), charming people to this abode. Based on the sculptures and design, I won't be surprised if it used to be a hospice, a safe refuge for the hungry, poor or weary travelers.
This is a detail of the engraved figures on the white house. Most of the carvings are of the same nature, figures giving food to others, welcoming someone under their roof, or tending to the sick which makes me think that my assumption of the function of these houses is close to the truth --- it was once used as a hostel or hospital catering mostly to the needy.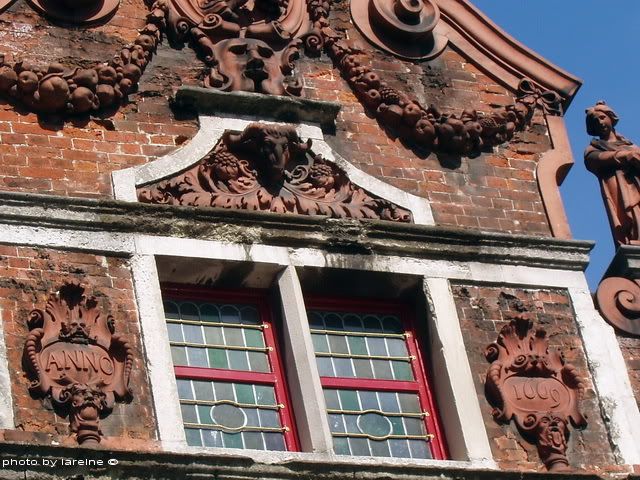 I believe that the year the house was built is engraved on the red-colored house --- 1669, more than three centuries ago. There's something awe-inspiring when one sees such thing. These houses (or maybe it's just the red one, but still formidable nonetheless) have withstood hundreds of years of use (and maybe misuse) bringing with them memories of those by-gone days.
They're living tangible bearer and teller of events, of people, of history. One just has to listen to it.
And like those kids following the pied piper, we might be charmed by the story we hear.